Wendy's Winged Companion's Aviary

Interested in learning more about us?


About Wendy's Winged Companion's Aviary

Wendy's Winged Companion's Aviary is owned and operated by a Wendy and her husband Chris.  We started our Aviary in Florida with individual cages in the yard to a beautifully built wood, wire and screen aviary that houses our breeder pairs in individual flights, ranging from 2' x 2' x 4' to 3' x 3' x 6'.  Our lovebirds were in their own outdoor aviary in 18" x 18" x 3' flights.  All outside aviaries are constructed to allow the birds to experience our great Florida weather and offers them the choice to either enjoy the rain or seek shelter under strategically placed overhangs, while being protected from our abundant insect life. Our parrotlet breeders enjoy the safety and security of an indoor breeding room and 20" x 20" x 20 flights.  We moved to North Carolina in April 2014 and moved the Aviary with us.  The weather in North Carolina is a little chilly for our Florida raised birds, so they are currently housed in a oversized three car garage that is being remodeled into indoor aviaries.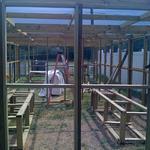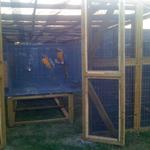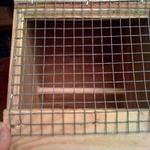 Initially we weren't going to ship our babies anywhere, we actually made several trips to meet our customers to hand deliver our babies. Then we met this wonderful man Mr. Hall who hand made these great  shipping containers to Delta Airlines specifications, and Wendy's babies started flying everywhere in the United States. 

Stan, our Maine Coon mix, has adopted the babies, routinely petting them while we get the babies ready for their new homes.  Sadly we said goodbye this in 2014 to Stan.  He disappeared one night when someone tried to break into our house scaring them away.